The new Ecopot also comes with a new base that is a combination of a Diffusion Plate and Stainless Steel.
This allows stored based heat to slowly diffuse through the Ecopot.
The retained trapped heat triggers onset of the Thermal Cooking Process.
The saucepan is now 3.5 litre with a stainless-steel lid.
The small saucepan is 1.2 litre and now is called a Poaching Pot.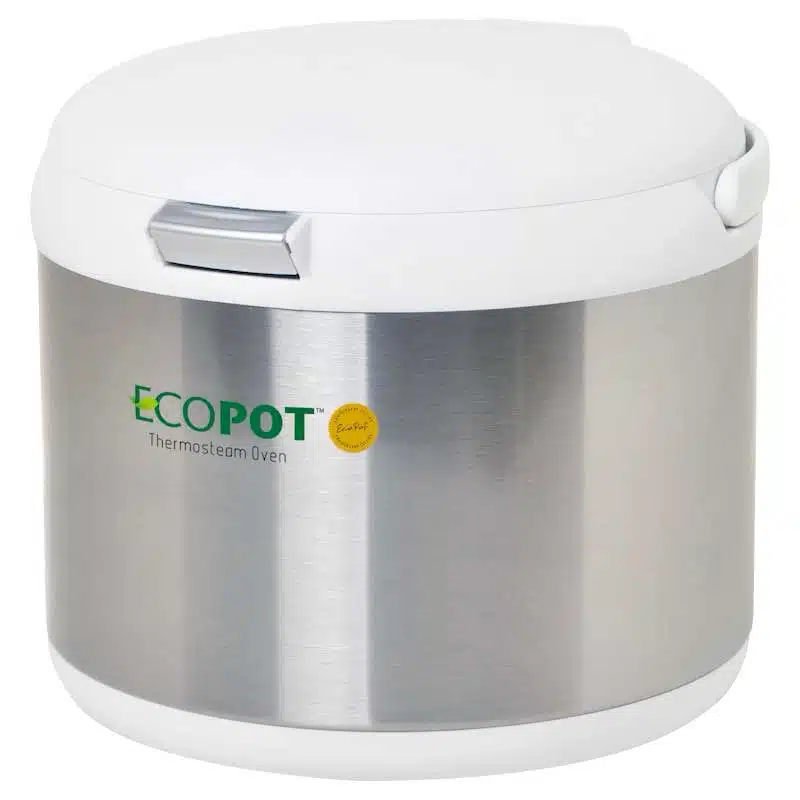 Place your ingredients in either the large or the small inner pot.
Bring the meal to the boil.
Simmer for the recommended simmering time.
Place the inner pot into the Ecopot. Close the lid and keep it closed.
The meal will be ready to eat after the recommended cooking time.
The meal will continue to stay hot in the pot for up to 8 hours. It may be tempting, but avoid opening the lid of the outer pot while it is cooking as it results in heat loss which will directly affect the end results.
The secret to Ecopot cooking:
Liquid coverage is the key!
Always remember to have more than enough liquid in your pot to cover your meal. If you are currently cooking in a slow cooker, crock pot, pressure cooker or slow cooking on your stove or in your oven, simply adjust your current recipes to include more liquid. Generally, when someone is preparing a Hot Pot or Casserole, they would use a small can of tomatoes and a cup of stock or wine. With an Ecopot, you simply adjust that to a large can of tomatoes and 1.5 – 2 cups of stock or wine.
Minimal air space
Ensure that the meal is completely covered by liquid and not too much air is left in the large inner pot. If we are doing a smallish meal and the small inner pot can fit on top
of the large inner pot, we add some boiling water to the small inner pot to close the air gap in the large inner pot. You may instead choose to cook a small amount of rice or pasta in the small inner pot at the same time. The heat from the meal below in the large inner pot will rise and cook the meal that is in the small inner pot. There will not be a cross- over of odours or flavours as the pots create a seal to prevent this from happening.
Tips
With large one-pot meals, just make sure you are utilising more than 70% of the pot and use enough liquid to cover the meal. When following a recipe, there may be some variation in size and density of fresh produce and meat, so you may need to make small adjustments to quantities used to achieve the correct volume.
With meats, expensive cuts are not needed as cooking in residual heat with no liquid absorption allows the toughest of meats to tenderise.
If you are doing a bake, roast, or something on a bone, extend your simmering time to 30 minutes.
From here, it's as simple as 1, 2, 3
Bring to boil.
Simmer for the recommended simmer time.
Transfer to the Ecopot and let sit for 3 hours.
Food will stay warm for up to 8 hours, with no POWER required. Remember, no peeping during the cooking process. Allow the meal to cook in the heat you created in the simmering process.
The Ecopot is perfect for slow-cooked meals and ideal for family get-togethers. Simply prepare your meal and take your Ecopot with you when you go to family gatherings, on day trips, on picnics or to children's sporting events. You can also prepare food in the morning, put it in the Ecopot and come home to a hot meal without having to leave an appliance switched on at the wall. Trust the Ecopot to cook without power!
Frequently Asked Questions:
How do I ensure food cooks throughout?
When cooking meals in the Ecopot, longer times are required for larger cuts of meat. Frozen or only partially thawed ingredients will also take longer to cook. Extend your simmering time and ensure the 'simmer' is a gentle boil.
If you are cooking a smaller meal using the small inner pot only, make sure you fill the larger pot with boiling water and vice versa if you are making a small meal in the large inner pot.
How do I maintain food consistency?
There is no evaporation of any of the liquid during the thermal cooking process. The liquid content will remain the same. Don't forget that some vegetables, such as tomatoes and zucchinis, also break down and give off liquid which can add to the liquid content of the meal.
If thickening is required, we suggest adding a thickening agent, such as instant mashed potato, risoni or cornflour, about an hour before serving the meal. We also recommend using dry rather than liquid stock in recipes that have other types of liquids, such as wine or vegetable juices, to create thicker meals.
Can I roast in the Ecopot?
Yes. Roasts are so easy to do and the results are amazing. Simply sear your meat and place in a non-perforated oven bag, squeeze out as much air as you can and tie it off. Place into the large inner pot, cover with water, simmer for 30 minutes and then transfer to the Ecopot.
Can I brown food in the Ecopot?
No thermal cooking results in food browning. We recommend searing meat prior to cooking. For baked goods such as cakes and scones, you can place under a grill for 30 to 60 seconds after cooking if you desire.


The Ecopot – Outer container
Wipe clean with a cloth. Microfiber cloths are ideal. Do not immerse in water. Avoid using scouring pads or abrasive cleaners on the outside surface.
Inner Pots
These can be washed in warm soapy water or even in a dishwasher. Limit the use of scouring pads or harsh abrasive cleaners on these pots.