Ecopot cooks food without power. Simply kick start the cooking process by heating the inner cooking pots with a few minutes of heat, then place the pot into the Ecopot, close the lid … that's it … dinners done.
The secret lies in thermosteam technology. Thermosteam traps heat in the base of the inner pot and when placed into the Ecopot creates thermosteam that cooks the meal slowly and gently. Ingredients are never under pressure and are saved from the constant battering of being subjected to continual high heat that slow and pressure cooks subject every meal to.
Thermo steam ensures food nutrients are retained, flavours completely infuse and the meals integrity remains intact.
Ecopot has taken traditional thermal cooking technology to a new level. Utilising patented Thermoplas, an industrial grade low conductive insulator, Ecopot keeps food hotter for longer, gently cooking food like nature intended.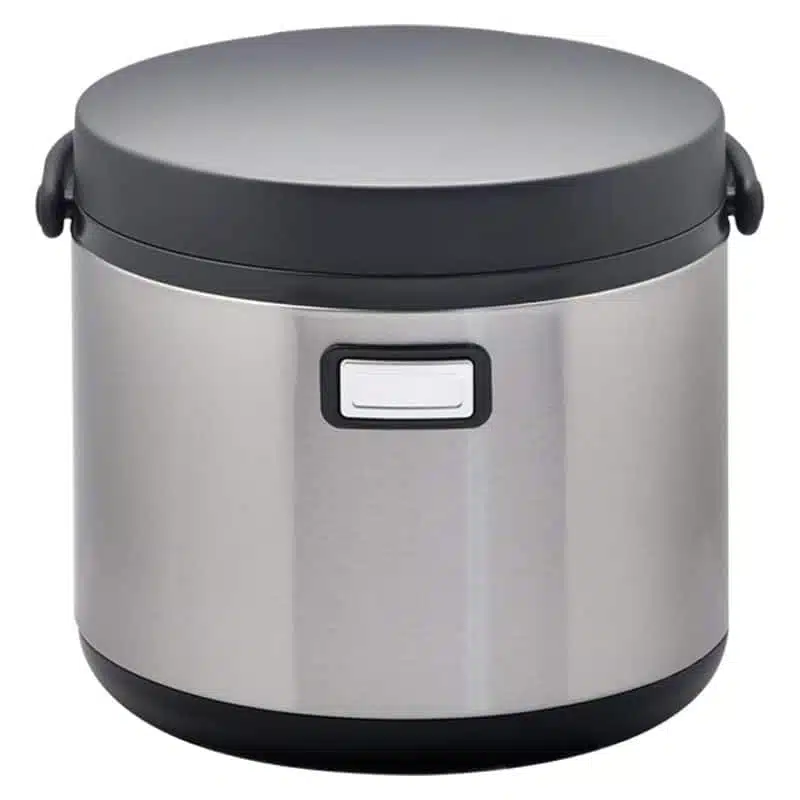 Place two pieces of Atlantic salmon in a slow cooker, a pressure cooker and an Ecopot and cook the fish slowly for 8 hours. Unlike the seafood chowder you'll experience with the pressure and slow cooker, Ecopots salmon will remain as moist and succulent and flaky at the 8-hour mark as it did at the 8 minute mark and all the goodness found in the salmons omega 3 remains locked in.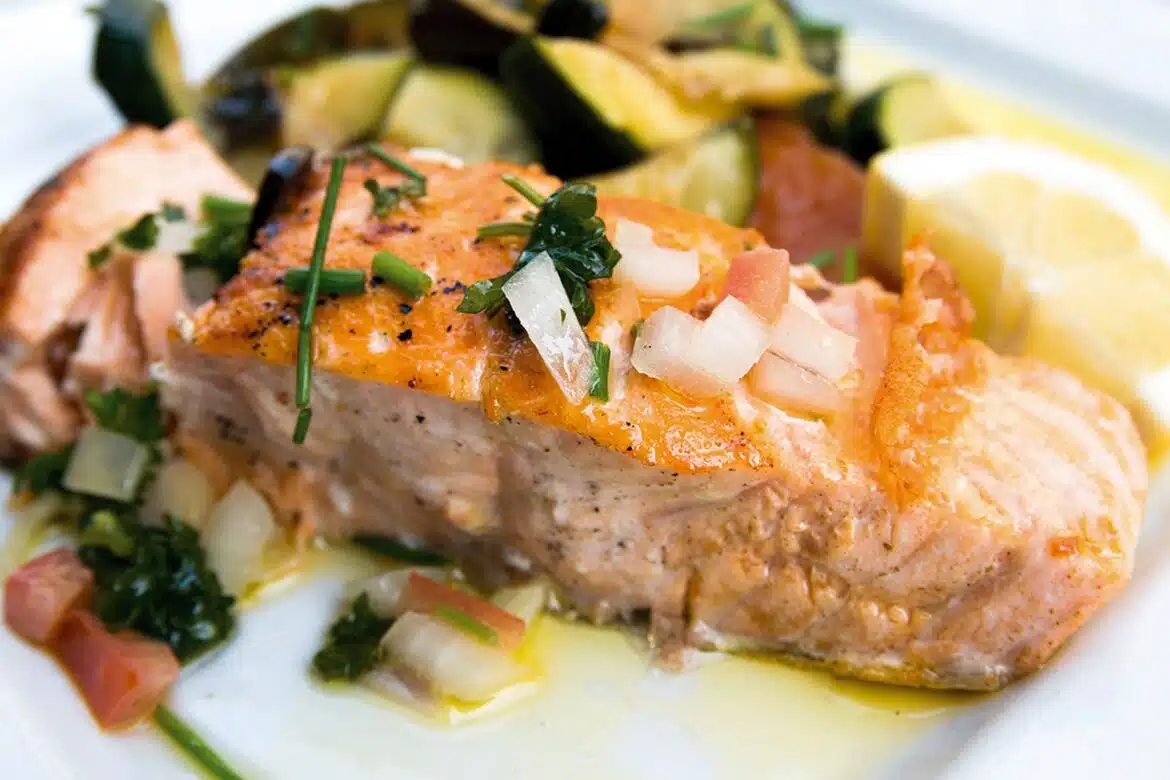 Cook the perfect meal by simply following these 3 easy steps:
Bring food to the boil in the inner cooking pot.
Simmer for 10-15 minutes, glass lid on.
Transfer the cooking pot into the Ecopot, close the lid.
That's it! Your meal will be ready to eat in 2-3 hours but will remain hot for up to 8 hours. Meals can't overcook, meals don't undercook.
Ecopot is a thermal oven. It generates its own heat by drawing the latent energy stored in the cooking pots triply bases to kick start the thermosteam process. Its toughened exterior is shock proof whilst its cooking pots are indestructible and can be placed on any heat source, including gas and open fire.
2 IN 1 VERSATILTY
Ecopots unique construction allows you to cook to meals at the same time in the one pot. In the large 5 litre pot cook a casserole, curry mix or Bolognese whilst in the smaller 2 litre pot cook your bread and butter pudding, your rice or pasta. No other cooker delivers the versatility of Ecopots unique 2 in 1 design.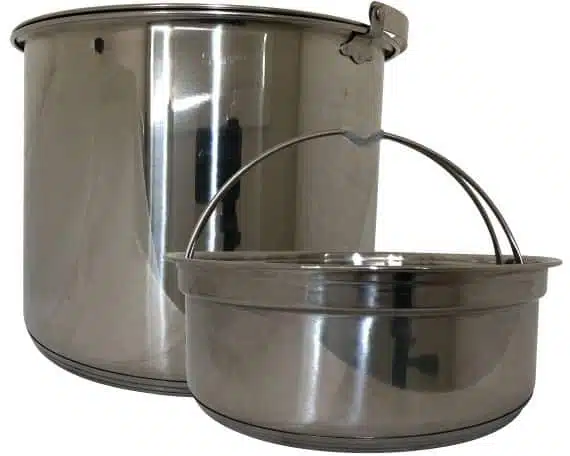 TRIPLY
Both Ecopots inner pots are made using triply bases. The 3 layers of thermal retentive metal absorb heat to form a thermal heating element. This thermal element is the catalyst that kick starts the thermosteam process. The heat is gentle, its natural and delivers outstanding restaurant quality results.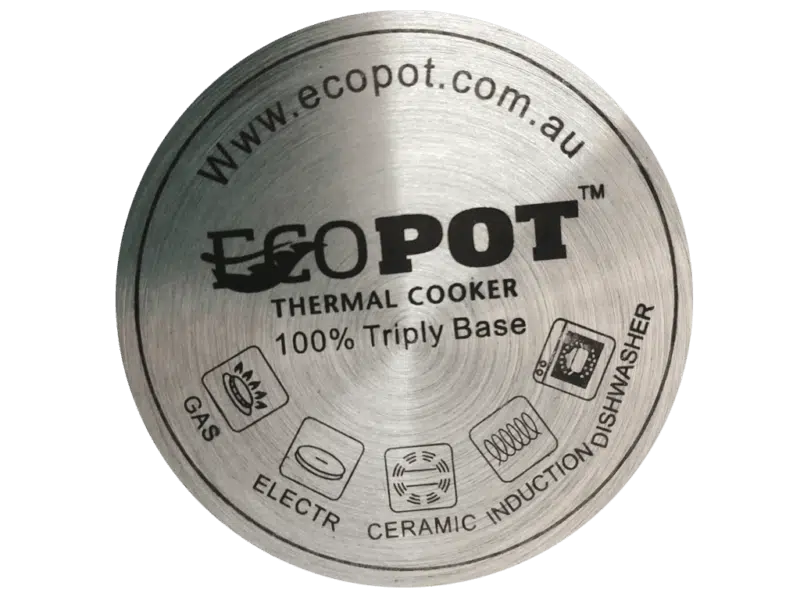 Clever Seal
No flavour cross-over. Ecopot uses Clever Seal technology. It guarantees absolutely no cross over of flavours between the two inner pots when cooking different meals at the same time.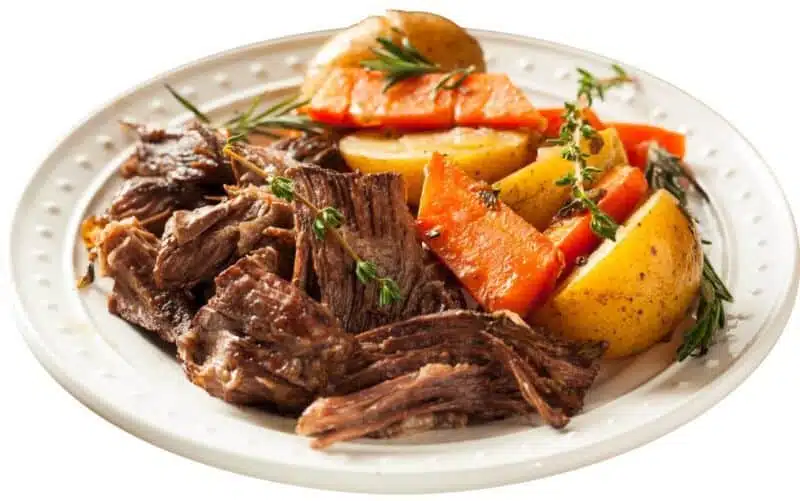 Ecopot – ThermoSteam Oven:
Thermoplas
Unlike vacuum cookers that leak and lose their heat retention, Ecopots tough and durable heat retentive Thermoplas does not allow heat to conduct, trapping heat for up to 8 hours above 60°C. Food safety is ensured.
Thermo Steam Technology
The secret to Ecopots perfect results lies in its thermosteam technology. Unlike slow and pressure cookers that utilise powerful heating elements to cook food, Ecopot utilises slow and gentle thermosteam as its heating source.
What is Thermosteam?
Thermosteam is created within the Ecopot itself. Its natural heat that is created by placing its inner pots on a cooktop for a few minutes, trapping energy in the cooking pots thick triply base. This trapped heat, once placed inside the Ecopot chamber creates thermosteam that cooks food gently, just as nature intended .
Durable & Non-pressurized
Unlike pressure cookers Ecopot is non pressurised, so its safe for everyone to use, young or old. Food is never under stress during the cooking process resulting in perfectly cooked meals each and every time. Goodness is locked in, flavours infuse resulting in the tastiest home cooked meals you'll ever experience.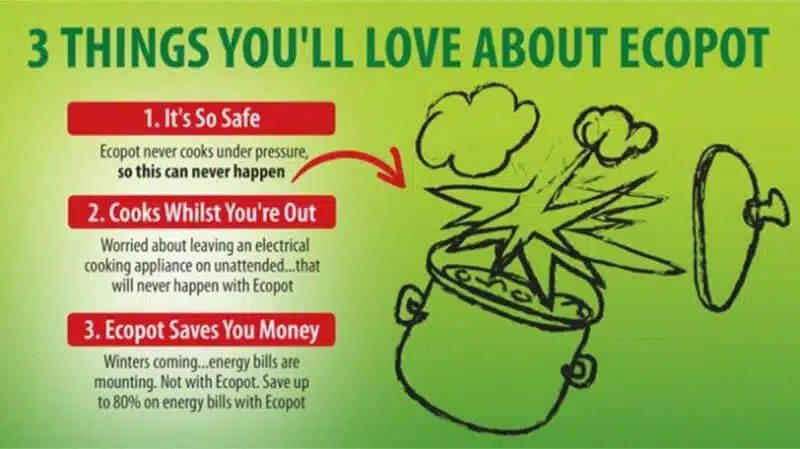 Performance Testing & Quality Assurance
Performance Tested.
Every Ecopot model is performance tested.
Batch Testing.
Batch testing is also conducted.
Strength & Heat Retention.
Testing is carried out for integral strength and heat retention.
Certified.
ISO2000:9001, CE approval, CB approval, UL approval.
built in re-heating option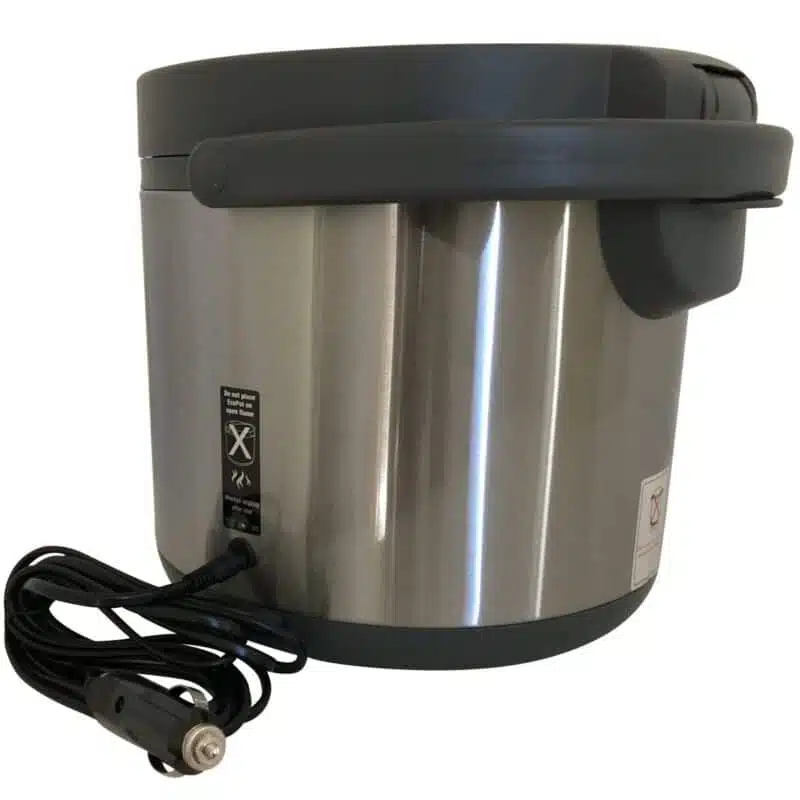 Ecopot 24/7s unique technology incorporates a 35 watt (3.3 amp) heating element in its base. The element is designed to boost food temperatures to over 60 degrees Celsius. It draws just 3.4 amps of power. The element is powered by the 12 volt adapter, which is included as a standard part when you purchase an Ecopot 24/7.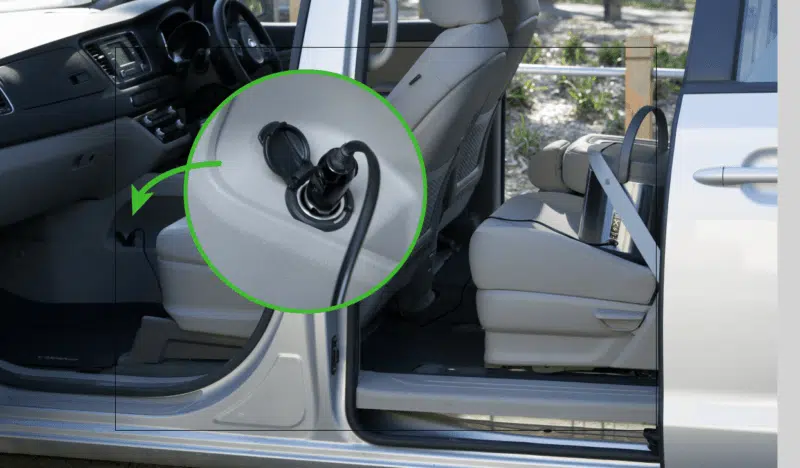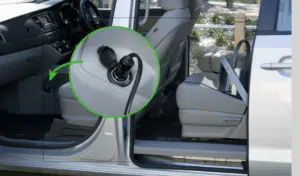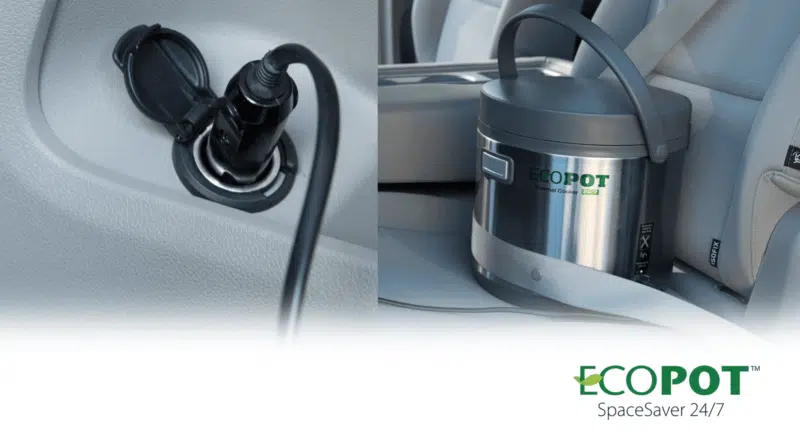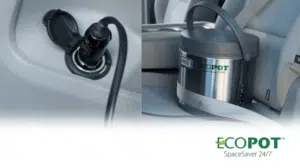 WHICH MODEL SUITS YOUR FAMILY?
Ecopot Spacesaver and Ecopot 24/7 are identical in construction with one exception; Ecopot 24/7 includes a 35 watt built in 12 volt reheating element. The reheating element boosts meal heat. It suits travellers, caravaners and boaties when earlier cooked meals are consumed at the end of a long day on the road or the water. The 24/7 model comes with a 3 meter long 12 volt adaption cable.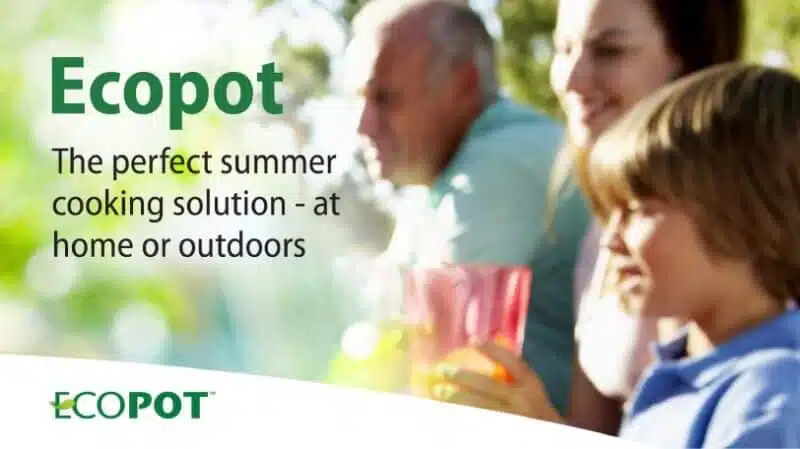 Food safety remains a priority with Ecopot.  Food safety Standards worldwide dictate that the minimum safe eating temperature for heated food is 60°C whilst chilled food should be consumed at or below 5°C.
Ecopot meals, when cooking times are followed will remain above 60°C for up to 8 hours. Provided meal contents are sufficiently covered with liquid at all times during the cooking process your food safety benchmark is assured.
Where an Ecopot meal is to be consumed post the 8 hour mark, when travelling, insert the 12 volt adaptor plug in to the Ecopot and the adaptor into your vehicles 12 volt power source for 20 minutes prior to arriving at your destination. This will boost their meals temperature without starting the cooking process again. The meal will retain its full nutrients, flavour and integrity during the reheating process.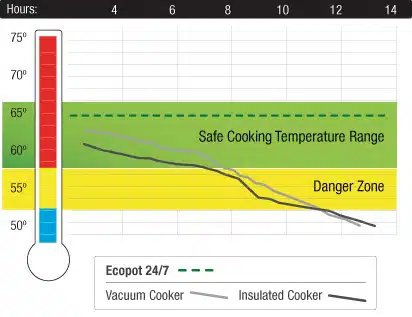 This graph illustrates food safe "heat retention" times.
Ecopot is guaranteed to save you up to 95% on your energy bills on your cooking appliances.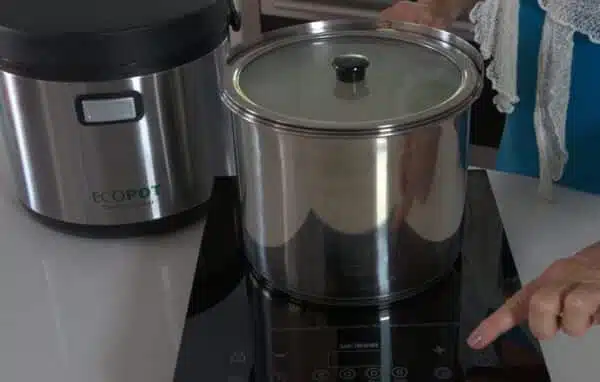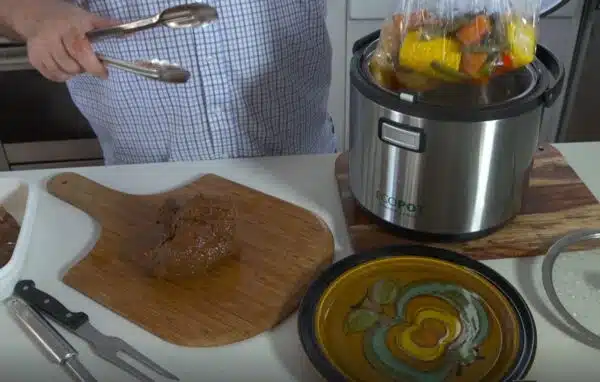 Imagine… cooking curry and rice, spaghetti Bolognese or that winter casserole and pudding at the same time in the one pot. It's amazing!
Bring food to the boil in the inner cooking pot. Simmer for 10-15 minutes, glass lid on. Transfer the cooking pot into the Ecopot, close the lid. That's it!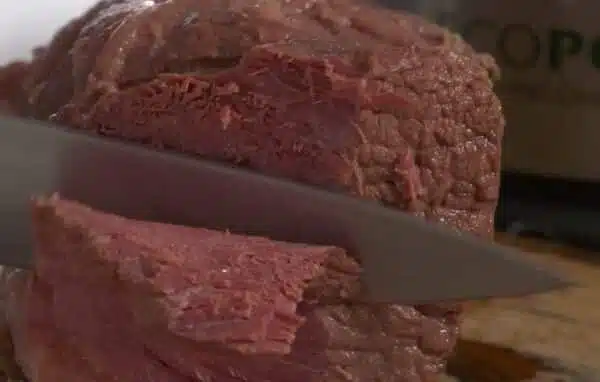 Ecopot will soon become your go to cooker whether it's at home or when travelling, boating or camping.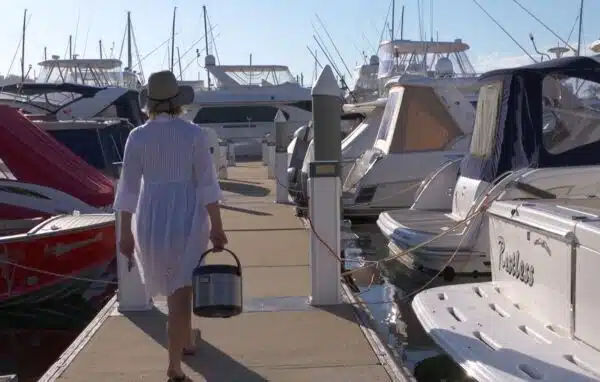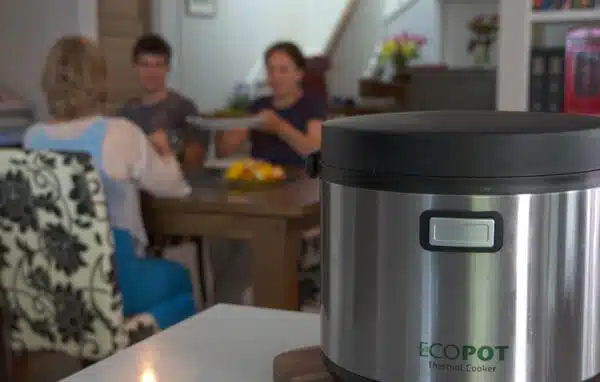 Ecopot generates no external heat, so kitchens don't heat up. Ecopot pots are also induction friendly.
Whilst you're driving to your campsite or whilst you're at work, Ecopots safely cooking dinner without any power. Get home, arrive at your destination, sit, relax and eat.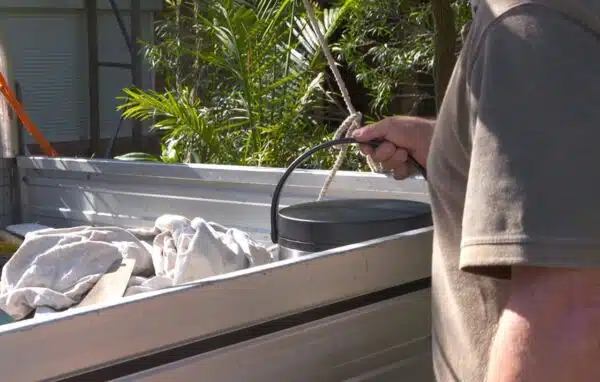 Martin Herbert
Horse Trainer
"I get to the track every morning at 3am. At 6am I look forward to my porridge served nice and hot from my Ecopot."

Dianne McLauchlan
Kindergarten Supervisor
"As a kindergarten supervisor child welfare is always my priority. I take my Ecopot every day to work, usually with a healthy soup which i serve up to the kids on those cold winter mornings. They love it."

Sandra Kelly
Wife
"My husband works on a prawn trawler and the crew love nothing better than having a good serve of spaghetti bolognase, which I make in my Ecopot."

Emma Gunning
Sheep Station Worker
"I bought my Ecopot last year and just want to say thank you, thank you. We work on a sheep station near Glenn Innes and I always take a pot full of lamb shanks and rice with us when out in the field. Once again, thanks for such a great product."

why so many people love Ecopot
The quality, the savings, the ease of use. The delicious recipes. You will love Ecopot too.